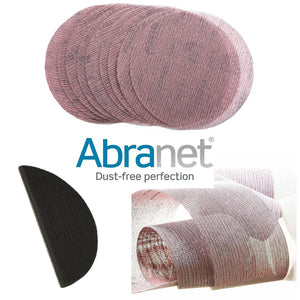 MIRKA® Abranet 125mm abrasive starter pack
Regular price $30.00 Sale
New to MIRKA® and Abranet abrasives? This starter pack is a great introduction, and ideal for that furniture restoration project at home. It contains:
Abranet 125mm discs
P120 (3 discs)
P240 (3 discs)
P320 (3 discs)

1 x Abranet 125mm half-round hand sanding pad
Abranet 75mm strip
2 linear metres P240
***
Mirka ABRANET is the original, multifunctional net sanding material. It combines high performance with a longer lifespan than traditional abrasives, making it a cost effective solution. Designed for dry sanding by machine or by hand, its true dust-free sanding characteristics result in a cleaner work environment and a better surface finish.
This unique patented sanding material contains thousands of small holes, making it possible to effectively vacuum away dust and other particles without clogging the disc surface. The result is seen as a very uniform sanding pattern and a perfectly smooth surface. Since the amount of airborne dust has been minimized, the work environment is remarkably improved.
Revolutionary technique for dust-free sanding
Multifunctional product used both within the automotive and wood industries as well as on composite materials
Durable long-lasting product
Abranet has been developed for sanding putty, primers, lacquers, composite materials and a large amount of other materials. This is a durable long-lasting sanding material.
Technical Specifications
| | |
| --- | --- |
| Grain | Aluminium oxide |
| Color | Brownish |
| Backing | PA net |
| Bonding | Resin over resin |
| Grit range | See pack contents |
| Coating | Closed |

Suited For
Automotive Refinishing
Construction & Decoration
Wood Processing
Metal Processing
Composites Processing
Do It Yourself
Marine Industry
Vehicles Manufacturing

Suitable Materials
Hard wood
MDF / HDF
Mild steel / carbon steel
Non-ferrous metal
Paint stripping / removal
Paint sanding
Lacquers
Plaster / Putty
Plastics
Body filler
Primer
Solid surface
Soft / Resinous wood
Stainless steel
Steel
Veneer
Melamine
Cast iron
Dupont Corian
Samsung Staron
L.G. Himacs
Karonia Mistral
Chipboard
Copper alloys / brass / bronze